Autonome
UV-C desinfectie robot
ADIBOT-A is uitgerust met SLAM (simultaneous localization and mapping) technologie. Dankzij deze technologie kan de UV robot onafhankelijk één of meerdere vloerplannen opstellen om zichzelf vervolgens in diezelfde vloerplannen te lokaliseren. De desinfectie machine kan autonoom navigeren, maar kan ook op afstand beheerd worden via een speciale, beveiligde server.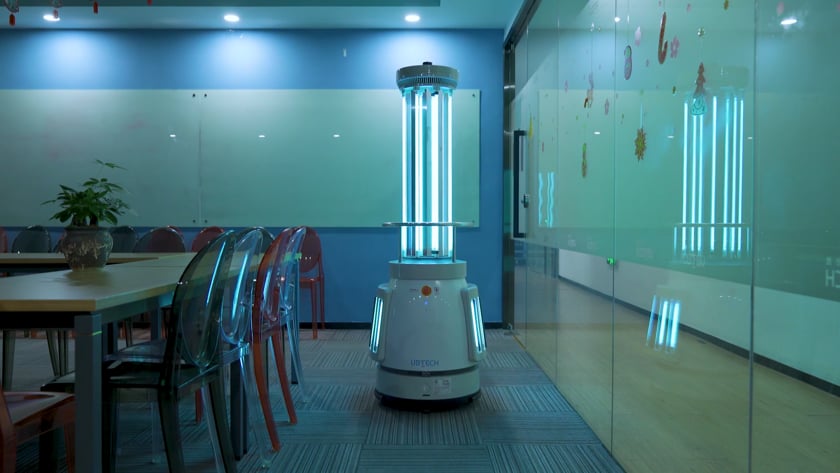 ADIBOT-A maakt gebruik van intelligente veiligheidsfuncties die ervoor zorgen dat de geprogrammeerde ontsmettingsroutes probleemloos verlopen. De UV-C desinfectie robot is uitgerust met risicobeperkende camera's, PIR sensoren om menselijke beweging te detecteren via lichaamswarmte, audio meldingen, sensor gestuurde veiligheidsborden en een noodafstandsbediening met een stopknop en een noodstopknop.
Het ADIBOT-systeem biedt 360 graden stralingslichtdekking met een krachtige UV-C desinfectie. De zestien UV-C lampen met UV-C licht zorgen voor een stralingssterkte van 1.520µW/cm2 die 99,9% van de ruimtes doeltreffend desinfecteert. De desinfectie machine kan optimaal ingezet worden in scholen, medische faciliteiten, ziekenhuizen, tandartspraktijken, hotels, kantoren en fitnesscentra.